Fire Protection & Security Systems
Al Baha Fire Protection & Security Systems division specializes in design, supply, installation, testing and commissioning of fire fighting systems as per LPC and NFPA regulations. We also offer a range of security and communication systems such as SMATV, CCTV, intercom systems, public address systems, access control systems, professional sound systems, etc.
Fire Protection Systems
Sprinkler systems, Foam systems and Deluge systems from USA.
UL, VDS and LPC approved.
Guaranteed long term performance, ease of installation and maintenance.
Fire detection and control equipment made in U.K.
Fire alarm control panels, detectors, alarm bells, call points,
Electronic sounders, strobes, magnetic door holders,
Emergency lighting, access control systems, etc.
Both Conventional and Analog Addressable Systems.
Fire detection and control equipment from Austria.
Analog Soft Addressable alarm control panels, intelligent temperature detectors,
Microprocessor controlled linear smoke detectors,
Manual call points, smoke aspirating systems,
Beam detectors and accessories.
All devices with built in short circuit isolators.
Fire fighting equipment, Dry & Wet Riser systems from the renowned Combat, Singapore. LPC/PSB approved.
Fire hose reels, breaching inlet connections, landing values, air release valves, branch pipes, nozzles;
Fire extinguishers with CO2, dry chemical powder; automatic fire extinguishers, trolly mounted extinguishers, etc.
Orbik is one of the largest manufacturers of emergency lighting equipment in the world.
Range includes emergency lighting control gear, emergency and mains luminaries, central systems, intelligent systems and fire detection equipment.
Made in U.K.
Emergency lighting equipment made in U.K.
| | |
| --- | --- |
| | PREPACKAGED FIRE PUMP SETS |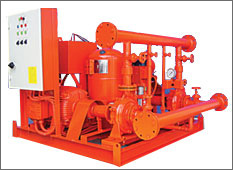 We offer ready to install pre-packaged fire pump sets designed and packaged in accordance with the regulations of UAE Civil Defence and applicable standards. Assembled in UAE by Aikah Establishment for Pump Assembly, our sister concern.
- Fire pump capacity ranging from 35GPM at 5 bar to 1000 GPM at 20 bar;
- Suitable for hose reel systems, sprinkler systems, wet riser systems, deluge systems and water spray systems;
- Combinations of electric plus diesel, twin electric, twin electric plus diesel, all with or without the jockey pump;
- Assembled with well reputed components - Pumps: RITZ (Germany)/DAB (Italy)/ Caprari (Italy)/ Aturia (Italy)/ Landini (Italy); Diesel Engine: IVECO Aifo (Italy)/ Acme (Italy)/ Lombardini (Italy).

WATER TRANSFER & WATER BOOSTER SETS
We offer assembled Water Transfer Sets and Water Booster Sets
for water supply applications; along with their control panels.
We also undertake supply and installation of booster stations and
their control panels.
---
Security & Communication Systems
Burglar & intruder alarm systems, shock sensor cameras,
External and internal alert devices.
Made in U.K.
Audio, video door entry systems.
Made in Spain.
CCTV, public address & access control systems.
Made in Germany.
Access control, time and attendance systems.
Made in U.K.
Communication equipment from Germany.
Satellite receivers, amplifiers, audio/video accessories,
distribution and installation accessories.
---